On December 12th, the party was on for 350 people at a lakeside luxury hotel in Geneva! Vitalis Events orchestrated a highly-planned end-of-year party for one of its clients.
This great project involved a preparation phase of almost one year. Although many different service providers were involved and the client wanted the evening to be very special, Vitalis had to follow strict budget guidelines. As always, we adjusted our offering throughout the process to deliver great value for money.
The decoration, entirely based on a "New York" theme, was very sophisticated, with lots of really fun details about the city. The top-notch audio-visual set-up, with powerful sound and visual effects, caught the guests' imagination too.
Food & Beverage during the dinner was flawless, and the carefully selected staff performed a perfectly-synchronized service for such a large group. The food, cooked by a Michelin-star chef and his team for 350 demanding customers, was nothing short of impressive. Of course, we catered for guests with special diets and special needs.
The music band, on the other hand, was flown in from Germany for the occasion, and it was another true highlight of the evening. The guests absolutely loved it and the dance floor was packed most of the time. The top DJ set that followed also deserved a big thumbs up.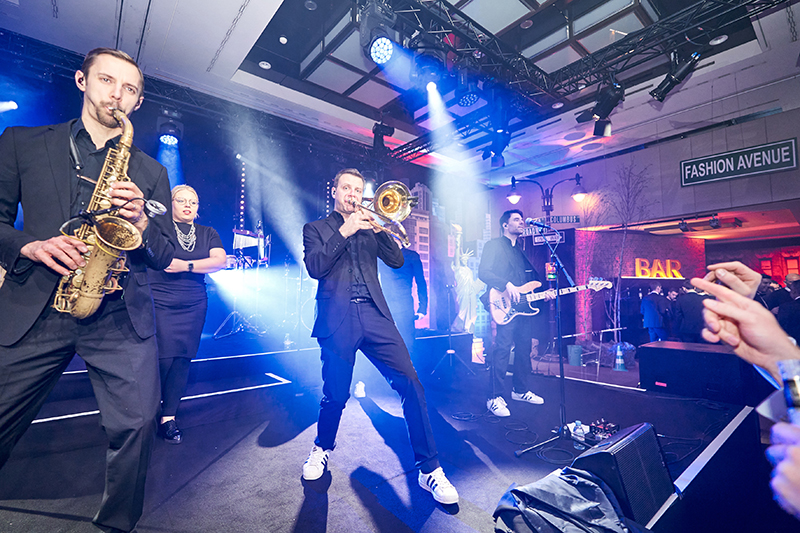 Finally, there were two bars at each end of the stage, staffed with professional mixologists that really delivered for all these thirsty people. A photo call booth with fun accessories and a professional photographer also made sure to capture every moment that counted during the 7-hour company celebration…
In short, Vitalis Events' highly skilled team is well-equipped to make your end-of-year party a big success! Please contact us, we'll provide a complete proposal.
All pictures by Guillaume Murat Photographe.
---